Casablanca 6 days tour: Enjoy this beautiful trip that will show you the most remarkable places of Morocco in 6 days. You will visit both Casablanca and Marrakesh, most favourite cities by tourists, and in the middle part of your trip you can ride a camel through Sahara dunes and see a breathtaking sunset.

HIGHLIGHTS:Casablanca 6 days tour
1-Casablanca is the largest city in Morocco and is considered the economic and business centre of Morocco. During this tour, you will see Hassan II Mosque, designed by the French architect Michel Pinseau, Casablanca Cathedral and New Town, designed by the French architect Henri Prost, and many more of the city.
• ImouzzerKandar s a town in Sefrou Province, Fès-Meknès. We can see a beautiful central square and ruins of Kasbah. The town is considered to be the first real stop in the Middle Atlas
• AïtBenhaddou is a famous castle (ksar in Arabic) along the former caravan route between the Sahara and Marrakesh. AïtBenhaddou has been a UNESCO World Heritage Site since 1987. Several films have been shot in AïtBenhaddou such as Kingdom of Heaven, (2005), Gladiator (2000), Alexander (2004) and many more.

•Dadès Gorges (Dadès Valley) is a wonderful series of rugged wadi gorges carved out by the Dadès River. Enjoy the best of a Moroccan nature with amazing views. The southernmost gorges are known for extensive production of roses, used in the production of rose water.

• Merzouga is known for its proximity to Erg Chebbi, a Saharan erg, and it is, for this reason, a part of the itineraries of many tourists visiting Morocco. You can visit Sahara desert, enjoy your memorable time there and stay overnight in a cosy desert camp.

• Ifrane was built by French builders in 1929. Ifrane is known as "Switzerland of Morocco" because of its architecture.

• Azrou which's name comes from a Berber word for "rock". In the city, you can enjoy monkey and see a famous Cedar forest that covers a significant area of Azrou city.

• Marrakesh's heady sights and sounds will dazzle, frazzle and enchant. Marrakesh is one of the Moroccan treasures. Marrakesh has its own vibe you will fall in love with and it's generous for travellers.

Itinerary: Casablanca 6 days tour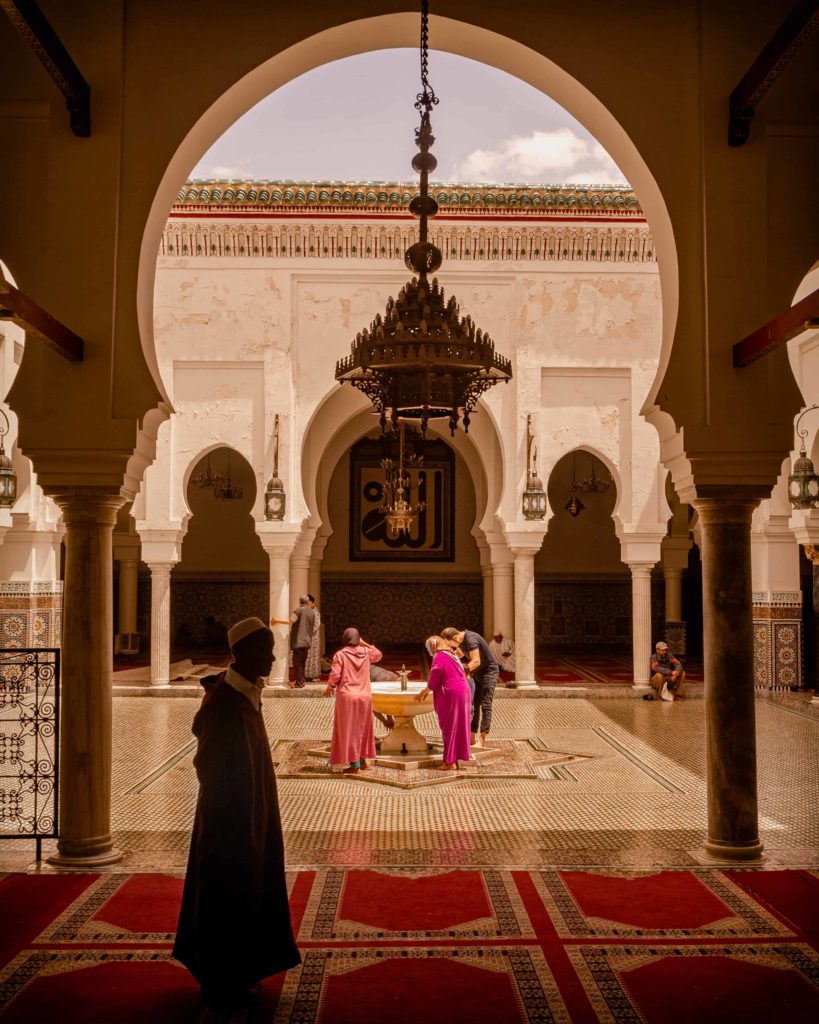 PRIVATE VISIT FEATURES: Casablanca 6 days tour
• Guided visit in Fez
• Visit Midelt in Chart book mountains
• Camel ride in Merzouga betray
• A night in forsake camp
• Climbing in Todra
• Visit Dades Chasms
• Guided visit in AitBenhaddou
• Investigate Marrakesh


Day 1: Casablanca – Fes
Casablanca 6 days tour: we meet you in the aeroplane terminal or in your lodging in Casablanca and drive to Fes going by Rabat and Meknes. On the off chance that the time permits us, we can make short stops to visit the imperative places in those urban communities and in addition the Roman destroys at that point it's on to Fes where you'll land at night and here you'll overnight in a customary Moroccan house (riad).
Day 2: Tour around Fes
We spend a meeting visit in the medina (the old city) and its back streets. Your visit begins by going by the Jewish Quarter (the Mellah) and the Imperial Castle (yard), which is the greatest one in the nation. You will visit the acclaimed tanneries and the Quaraouine mosque considered the principal college on the planet. Overnight convenience will be at the same riad.
Day 3: Fes – Azrou – Midelt – Ziz Valley – Merzouga
You will be going towards Ifrane from fez, at that point it's alluded to as "the Switzerland of Morocco". Amid this voyage, you'll see looks of the Center Map book and Higher Map book mountains. Halting at Azrou, a Berber town amidst the acclaimed cedar woodland. At that point a while later we'll go through the TiziNtalghamt pass and along the glorious Ziz Chasms cut through volcanic shake and along the Ziz Valley, to Erfoud and after that Rissani, previously touching base to Merzouga. Supper and breakfast.
Day 4: Merzouga – Todra Crevasses – Dades Valley
Morocco visit by your camel guide will wake you up at a young hour in the morning to watch what might be the best dawn in your life, at that point you'll gently camel-trek back to the town. In transit, you won't neglect to value the one of a kind delight of the staggering Erg Chebbi ridges – changing with the light as the day advances. After breakfast we'll leave for Rissani, Tinghir and Todra gorges – the most noteworthy, tightest crevasses in Morocco. After lunch in the core of the chasm, we'll drive through the Dades Valley, where you'll see the grand sand châteaux and the astounding rock developments known as "monkey toes". Overnight in our customary visitor house with supper and breakfast.
Day 5: Dades Valley – Ouarzazate – AïtBenhaddou – Marrakesh
We drive through the Dades Valley towards KalaatMgouna and Ouarzazate. The course through Dades Valley is the method for the thousand KasbahsWe'll stop at KalaatMgouna, "the rose city", to buy the rosewater. We keep on Marrakesh going by Ait Ben Haddou Kasbah, the biggest Kasbah in Morocco. Your trip will proceed through the magnificent Tizi'n'Tichka Pass (2260m) over the High Map book Mountains, where we can stop to find the way and the way toward making the argan oil by the Berber ladies their cooperatives previously touching base at your convenience in Marrakesh.
Day 6: Marrakesh – Casablanca
Exchange from Marrakesh to Casablanca. The end of our Casablanca 6 days tour
Information:
Each of our trips can be adjusted individually after a previous arrangement.
Ride a camel!
While driving a car is a comfortable, riding a camel through the desert is much more fun and memorable! Don't hesitate and explore the Sahara desert from a camel's seddle.
Additional information
Takeoff point: From your hotel or an airport (can be changed after previous arrangement (can be changed after previous arrangement )
Takeoff time: 9 AM (can be changed after previous arrangement (can be changed after previous arrangement )
Return details: Back to the take-off destination (can be changed after previous arrangement )

Pricing:
Prices depend on many factors such as number of travelers and duration of your stay.
INCLUDED:
1• Accommodation (hotels or riads)
2• Transportation during the whole trip
3 • Ride in an agreeable 4×4 car
4• English talking guide/driver
5 • Convenience in hotels/riads
6• Suppers and breakfasts
7• Camel ride in Merzouga forsake
8 • Dozing in Sahara camp – tent
9 • Drop off at your lodging toward the finish of the visit


EXCLUDED
1• Lunches and beverages
2• Passage charges for historical centers, landmarks and attractions