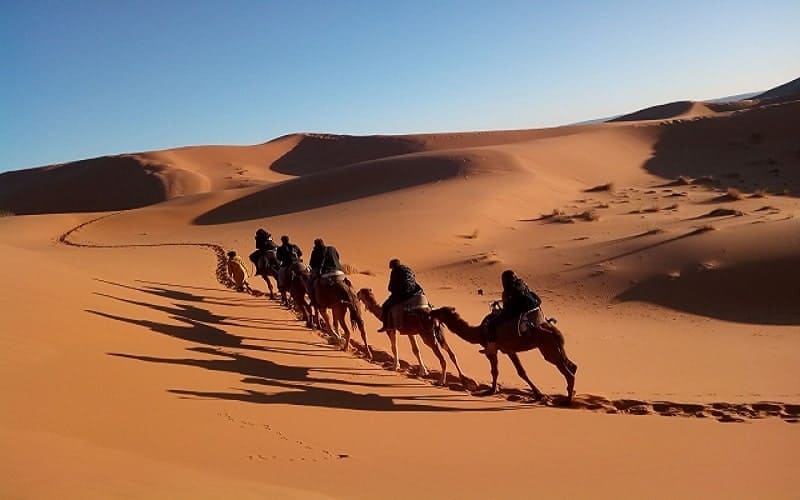 OVERVIEW Best 3 day sahara desert trip from Marrakech
Best 3 day sahara desert trip from Marrakech is our most popular. It departs every day from Marrakech. This desert safari is perfect for those who want to discover the deep Morocco Sahara desert and don't mind long hours driving. The tour is rich in scenery; you will never be bored as you will be busy admiring one scene after another. The dramatic landscape change is amazing. From the fertile Haouz plains around Marrakech, to the High Atlas Mountains, then to various valleys and oases. At the end, rocky plateaus followed by the breath taking Erg Chebbi sand dunes. The highlight of our Best 3 day sahara desert trip from Marrakech is your sunset camel ride and the overnight sleep under the stars at your Bedouin Sahara desert camp.
Here are the Best 3 day sahara desert trip from Marrakech
 highlights : Best 3 day sahara desert trip from Marrakech
Cross the High Atlas Mountains with its pass of Tizi Ntichka
Walk to the world heritage site of Kasbah Ait Ben Haddou
Climb up to Dades canyons
Visit Todra gorges and Tinghir oasis
Ride a camel in Erg Chebbi to watch the colour-changing sunset
Spend the night at a Berber desert camp at the Sahara desert
Best 3 day sahara desert trip from MarrakechDay 1 :
Marrakech – Atlas Mountains – Kasbah Ait Ben Hadou – Dades Valley (06H00 DRIVE)
Best 3 day sahara desert trip from Marrakech will start early in the morning with a drive east of Marrakech past small suburban towns to the High Atlas Mountains. A few stops will be made to take photos, enjoy the scenery, stretch your legs and drink a cup of coffee.
Drive uphill on curvy roads to the famous Tizi Ntichka pass before you reach Kasbah Ait Ben Haddou, the first major stop today for sighseeing. The Berber fortified village of Ait Ben Haddou is a UNESCO listed landmark and is also known a set for major Hollywood epics, just to name a few movies that used the village for shooting: Kingdom of Heaven, Lawrence of Arabia, and Gladiator. Cross the river separating the Kasbah from the main road and explore the village at leisure. Should you wish to hire a local guide, they are available onsite.
After lunch at leisure at one of the local cafes, continue to to Dades valley driving past Ouarzazate, Skoura Oasis, Klaa Mgouna, the capital of the valley of the roses, and famous for its rose water artisanal distillation factories.
Upon arrival at Boumalne Dades, Follow Dades River on a tiny road passing by different fortified Kasbahs located on the side of the road to Dades Canyons. You will arrive to your hotel late in the afternoon.
Dinner and overnight at your Dades hotel.
Accomodation details: Standard or luxury, its up to you
Day 2 :
Dades Valley – Tinghir – Merzouga – Sahara Desert (4H00 DRIVE)
After breakfast at your hotel in Dades Valley, our journey today will start today with a drive along the road of 1001 Kasbahs to the oasis of Tighir, where we will deviate to a minor road driving along the river to Todgha where you will stop for a walk in the oasis under the shade of palm trees and continue to Todgha Gorges. Best 3 day sahara desert trip from Marrakech
After some time at leisure to enjoy the immensity of the huge cliffs, and lunch at a local café ( At leisure ), we continue early in the afternoon to to Rissani, famous for its dates market, and being a starting point of the ancient trading caravans crossing the Sahara desert to Tomboctou. After a quick stop, we will continue to Merzouga driving through some rocky desert landscape.
Upon arrival at Palais Des dunes lodge, feel free to take a swim at their freshening pool before getting ready for your sunset desert trek to the camp.
Meet our camel caravan, and ride your camels through the amazing color-changing sand dunes with the sunset in the horizon as a backdrop. We reach our Sahara desert camp before darkness.
After some time to admire the sand dunes and the surrounding landscapes, get ready for a Moroccan dinner served under the stars next to the campfire. Late at night, you local nomad hosts will be entertaining you with their drums.
Day 3 :
Merzouga – Ouarzazate – Atlas Mountains – Marrakech (9H00 DRIVE)
After an early sunrise camel trek through Erg Chebbi dunes, arrive at the camp operator's lodge for breakfast, shower and maybe a quick swim at the lodge pool if time permits.
Meet your driver and vehicle and drive back to Ouarzazate. After some time at leisure for lunch, we carry on in the afternoon to Marrakech through the High Atlas Mountains.
Best 3 day sahara desert trip from Marrakech will end in Marrakech at about 19h00. Best 3 day sahara desert trip from Marrakech.