3 DAYS MARRAKECH TO FES DESERT TOUR TO MERZOUGA SAHARA – PRIVATE & SHARED GROUP TOUR
The Best 3 days tour from marrakech to fes private tour including Camel Trek & night in the Sahara desert of Merzouga, Our Three days trip from Marrakech to Fes will take you to the Erg-Chebbi sand dunes throughout the High Atlas mountains to Kasbah Ait Benhaddou and other places, Check above the 3 Days tour from Marrakech to Fes itinerary. We have both private and shared Marrakech to fes  tour 3 days to Merzouga, check our Shared desert tours page and book your 3 days Shared Marrakech to Fes tour with us which includes private accommodation. desert tour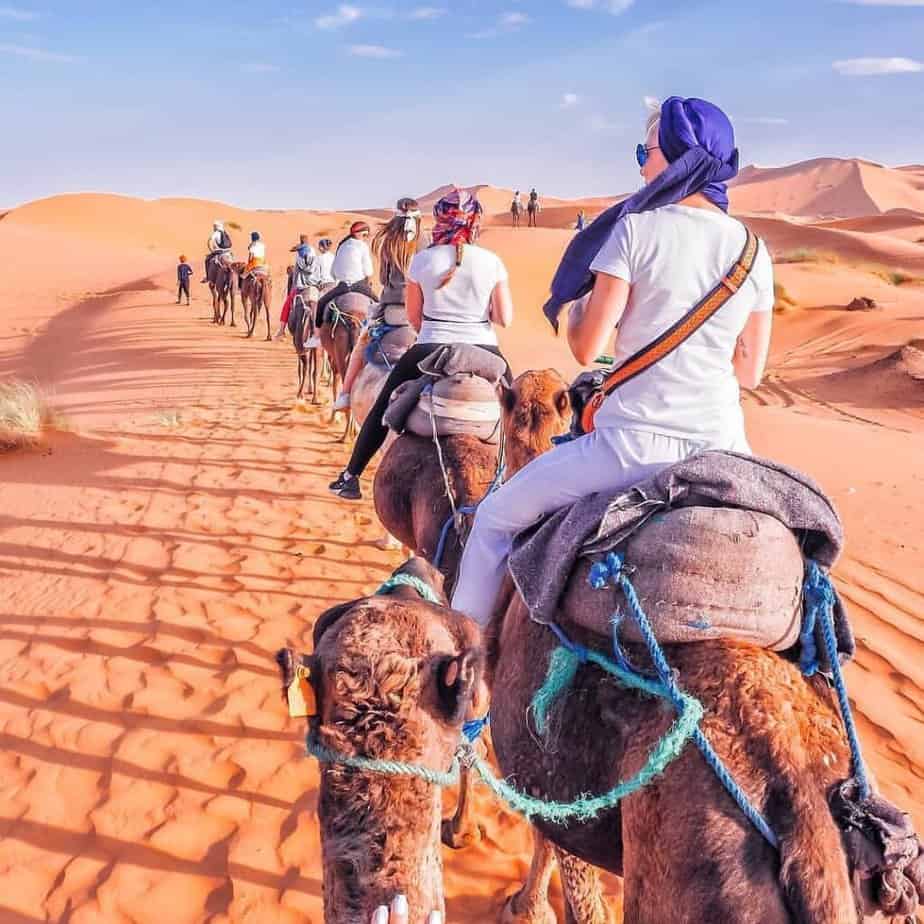 marrakech  sahara desert tour
3 DAYS MARRAKECH TO FES DESCRIPTION
3 DAY MARRAKECH TO FES DESERT TOUR ITINERARY
1st day: At 8 am we'll start our Three Days trip from Marrakech to Fes with a pickup from your accommodation and drive to Dades Valley via the High Atlas mountains and the pass of Tizi N Tichka pass we will stop and enjoy impressive landscapes and Berber hamlets, we will visit the universal Heritage Site of Ait Benhaddou Kasbah as it has been named by UNESCO in 1987. This Berber Kasbah has been used as an important destination for international filmmakers for more than 20 films and also one of the most important fortress strongholds on the old Salt Road where caravans brought slaves, gold, ivory, salt, and silk from Subsaharans countries to Marrakech and beyond. tour from marrakech
We'll pass through Ouarzazate, or what we call African Hollywood since it's has been as well a very famous destination for filmmakers, after Ouarzazate, we will continue to Dades Valley, through the Megouna, Skoura (Berber villages around the valley) we will spend the night in Dades valley.
2nd day: After the breakfast, we'll start our desert trip from Dades to the Erg-Chebbi Sahara desert. The first stop will be in Todra Gorges which is the Biggest Canyon in Morocco, In Todra gorges you'll have some free time to walk beside the river to explore Todra Gorges, And then we'll drive to Erfoud in which we'll feel the beginning of the Sahara desert, we'll stop in some restaurant to have lunch and we continue to the Merzouga desert, after relaxing few minutes in a Hotel in Merzouga,we go to ride the camels who are waiting to take us on an amazing adventure in the sand dunes. tour from marrakech
       3 days tour from marrakech to fes private
3rd day: We'll wake up early morning to watch the sunrise and then we ride the camels back to Merzouga, after taking shower and breakfast we'll start our Sahara tour backing to Fes.
We stop by a village called Midelt where we'll have lunch. This town is a very impressive mountain city at 1488 meters of altitude, well situated lower down the mountain  " The Jbel Ayachi (3737 m)". private days  tour fes via
In the afternoon we'll continue to the legendary city of Fes. Arrival to Fes which is the end of the 3 day Marrakech to Fes  tour. days desert tour.
For more information contact us