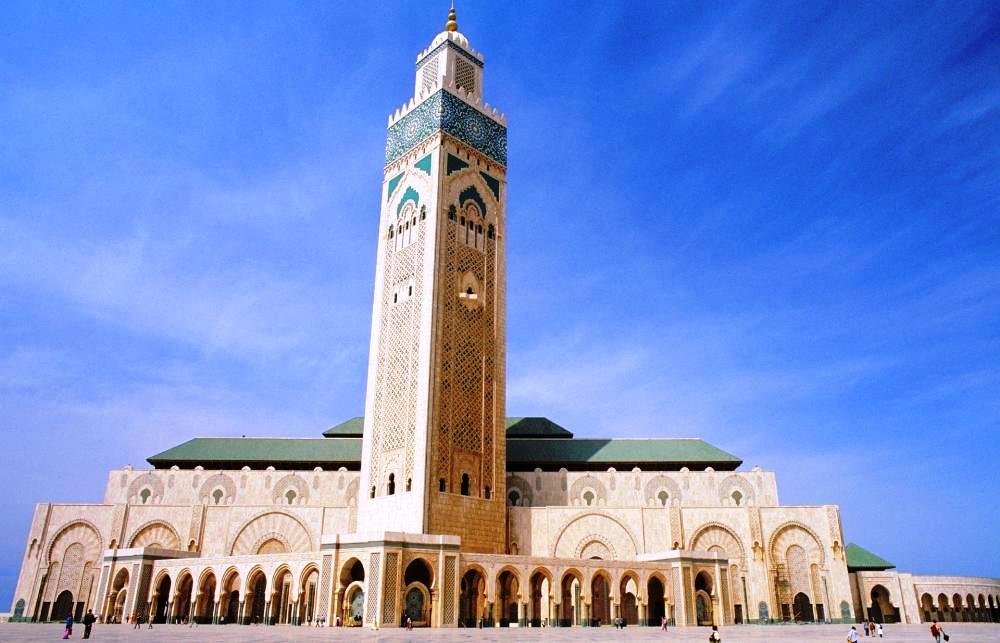 10 days tour from Casablanca
10 days tour exploring Fes- Imperial Cities & Sahara Desert (Camel trekking)
10 days tour from Casablanca
Casablanca Desert Tour in 10 Days & 11 Nights
 Overview of 10 days tour from Casablanca
Skip the hassle of renting a car or navigating public transportation and see the best of Morocco on this personalized 10-day trip from Casablanca. You will immerse yourself in the exotic colours and cultures that define Morocco. From Casablanca to Rabat (The capital of Morocco), the imperial cities of Meknes to the whitewashed town of Chefchaouen, the rich history and traditions of this ancient land await. Discover the medieval city of Fes, explore the spice markets of the medinas and travel to the Roman ruins of Volubilis – this northbound tour lets you soak up the extravagant sights and revel in the hidden delights.
With us you will learn a lot about Morocco and understand its diversity in many ways.
Traveling between attractions with ease in an air-conditioned vehicle. A night at a Berber tented camp is also included after camel trekking experience.
Itinerary program of 10 days tour from Casablanca
Day 1: Casablanca » Rabat [86.9 Km]
Day 2: Rabat » Chefchaouen [251.7 Km]
Day 3: Chefchaouen » Meknes » Volubilis » Fez [252.9 km]
Day 4: Fes Sightseeing Tour with local guide
Day 5: Fes » Ifrane » Cedar Forest » Midelt » Ziz Valley » Erfoud [415.3 km]
Day 6: Erfoud » Rissani » Merzouga Sahara Desert » Erg Chebbi dunes (Merzouga) [54 km]
Day 7: Erg Chebbi » Todra gorges » Dades gorges [269.6 km]
Day 8: Dades gorges » Rose valley » Ouarzazate » Marrakech [326.2 km]
Day 9: Marrakech City Tour With Local Guide
Day 10: Marrakech » Casablanca airport [241.2 km]
Note: At Saha tour agency we offer private standard and luxury/Deluxe tour from Casablanca to Marrakech via Merzouga on 8 Days to Merzouga Desert, Fes, Atlas mountains, Kasbahs & Marrakech.
Info about 10 days tour from Casablanca
Duration: 10 Days/9 Nights
Departure: 08/09 AM
Starting Location: Casablanca
Ending Location: Casablanca
Price: From 580€ / Person (It depend on the number of people)
Confirmation: Confirmation will be received at time of booking.
Highlights of the 10 Day tour from Casablanca
 Visit Rabat & Chefchaouen
 Visit Volibulis: Roman City
 Cross the high Atlas Mountains
 Visit Azrou cedar forest
 Middle Atlas
 Sahara Camel trek excursion
 Overnight desert camp
 Draa Valley
 Free time to walk in Todra gorges
 Visit Ait Ben Haddou Kasbah
---
Program Itinerary
(10 days tour from Casablanca to Fes & Merzouga Desert)
 Day 1: Casablanca » Rabat [86.9 Km]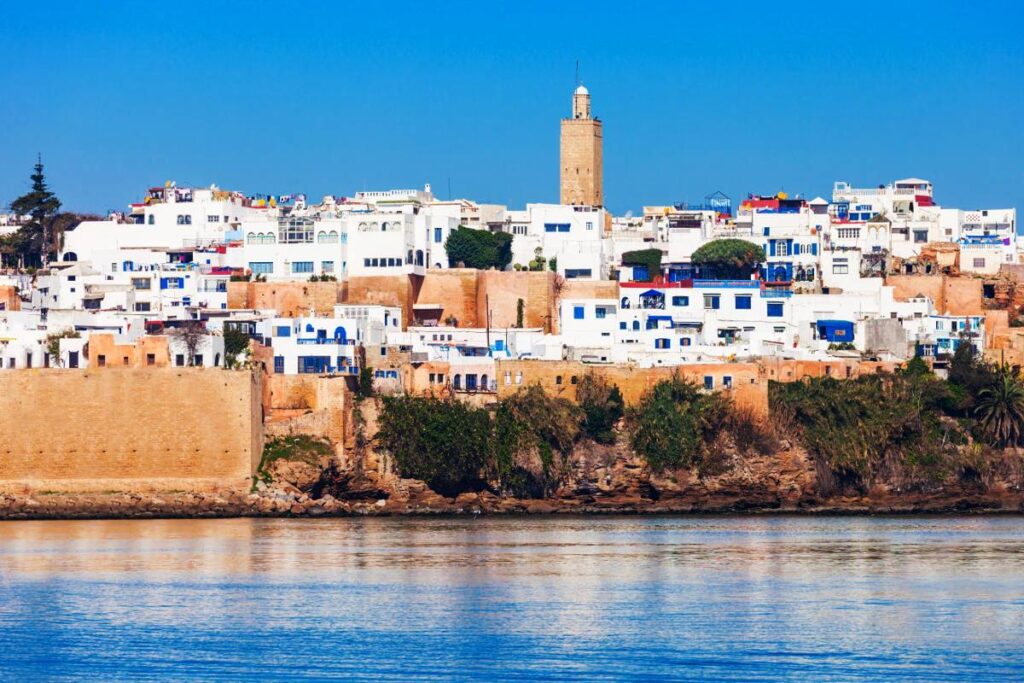 Welcome to Morocco! Arrival to Med V airport in Casablanca where you will meet your private English speaking driver. The driver will provide a brief review of your new year tour. Then, you will visit Casablanca, Morocco's commercial capital and largest city. You will enjoy the impressive architecture, the majestic Hassan II Mosque, and the gardens, and terrace cafes overlooking the Atlantic Coast. Afterwards, departure towards the main Capital Rabat. Overnight with dinner at the hotel or Riad.
 Day 2: Rabat » Chefchaouen [251.7 Km]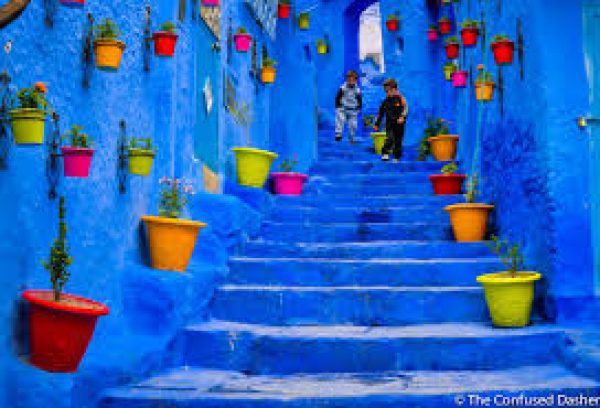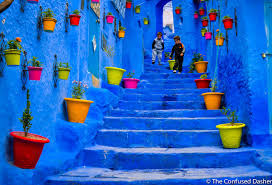 Today we will drive to Chefchaouen. In the way of this Grand Tour of Morocco, 10 Days in Morocco the Best Sahara tours Morocco, we will make short stops then get to the blue city. Finally, overnight in an authentic riad in the Medina.
Day 3: Chefchaouen » Meknes » Volubilis » Fez [252.9 km]
Today we drive from Chefchaouen to Meknes to enjoy a guided tour of Meknes. We start our guided tour in front of the impressive 18th century Bab Mansour, the ornamental gate to the imperial city of Meknes built by Sultan Moulay Ismail. We continue our tour to the small but impressive Mausoleum of Moulay Ismail. Then we will pass by the entrance of the Meknes Royal Palace and end up at Moulay Ismail's massive Heri Es Souani. This was his personal stable & granary for his 12,000 horses. After lunch, we'll make our way through the rolling hills for a guided visit of the impressive Roman ruins of Volubilis, as a UNESCO World Heritage Site and the best-preserved Roman ruins in this part of Northern Africa. Listen to your certified local guide explain about life in the Roman Empire as you peer into old bathhouses, marvelling at the still-present mosaic floors and gazing up at the towering marble pillars. We leave the Roman Empire to make our way to Fez. Overnight in Fez with dinner.
 Day 4: Fez Sightseeing Tour with local guide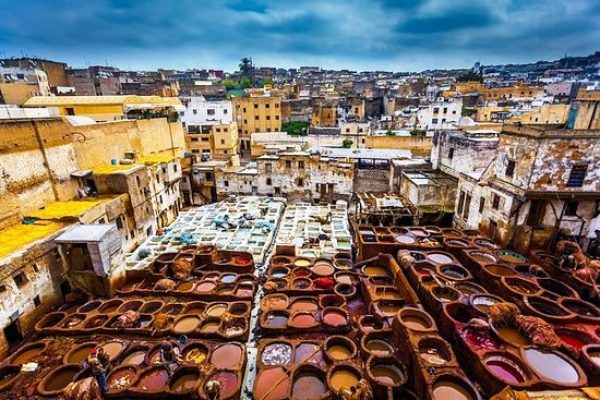 After breakfast, you will begin your guided tour of the medina, one of the world's largest walled in cities dated back to the 9th century walking through its alleys and small streets. The visit starts by visiting the Royal Palace gate; the Jewish headquarter named "Mellah" built in the 16th century. We explore the medina's many artisans' quarters, such as the brass, copper and wedding adornment souks. The carpenters, bakers & butchers also have their area of the medina that they call home. A highlight is a visit to the famous Fes tannery, where we have great views from a panoramic viewpoint over the men hard at work treating and dying the different hides. We'll also get to see its religious and historical heart when we visit Moulay Idriss II's Mausoleum (the founder of Fes), the 9th century Al Karaouine University and one of the many Medersas (Koranic school). Overnight in the Riad with breakfast.10 days tour from Casablanca
Day 5: Fez » Ifrane » Cedar Forest » Midelt » Ziz Valley » Erfoud [415.3 km]
Continuing our 10 days tour from Casablanca, today we leave Fez towards Erfoud, En-route you'll pass through a scenic forest of cedars and across the Middle Atlas Mountain range to the mineral mining city of Midelt, where a stop for lunch is scheduled. This journey continues along through the dramatic Ziz valley which is particularly well-known for its palm trees and the length of the oasis. All along the road there are innumerable ksars, small villages of individual houses. From here we reach Erfoud, famous for its date festival and fossils. After an approximate 7 hours of travel, you will arrive at your final destination of Erfoud. Dinner and night in a Kasbah hotel.
 Day 6: Erfoud » Rissani » Merzouga » Erg Chebbi dunes (Merzouga) [54 km]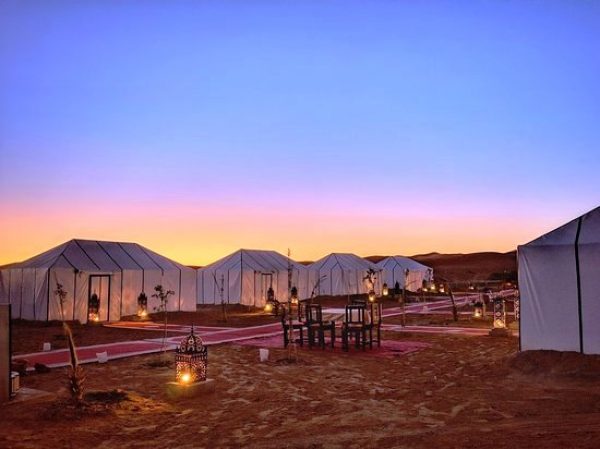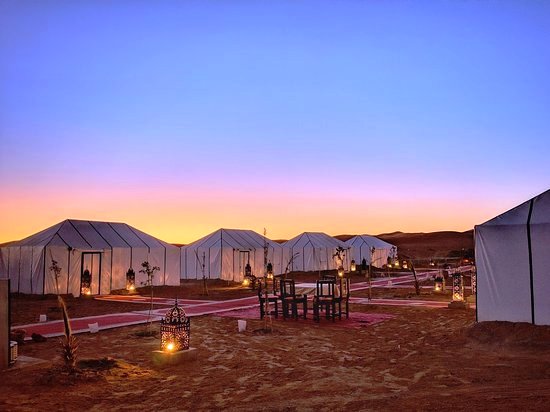 Start your Saharan journey from Erfoud with a visit to a Nomad village, and lunch a break in a Kasbah hotel by the sand dunes of Erg Chebbi. You will have some time relaxing by the pool before the next part of your adventure. You will walk or ride by camel over the sands as the sun begins to set and as you reach the magnificent Erg Chebbi sand dunes, witness them turning a wonderful red hue. As night falls, listen to the intoxicating beat of Berber drum music and song, enjoying a Moroccan home-cooked feast before sleeping under the stars in your private Luxury tent with private bathroom and hot shower. Today you will enjoy an unforgettable New year eve party with a Gala dinner.
Day 7: Erg Chebbi » Todra gorges » Dades gorges [269.6 km]
Your day starts with a picturesque sunrise before enjoying a nice breakfast. After that, you head back to Merzouga to re-join your car and continue your journey towards the gorgeous canyons of Todra Gorge travelling along the rugged Road of a Thousand Kasbahs. This area has long been a popular location for Hollywood films such as The Last Temptation of Christ and Jewel of the Nile. We arrive at the stunning gorges of Todra where springs of water run between the rocks and enjoy the views of natural beauty. Take a short exploratory walk into the Todra Gorge with its high walls of pink and grey rock which surround you. We continue through the Dades valley. Dinner and night in a Kasbah hotel.
 Day 8: Dades gorges » Rose valley » Ouarzazate » Marrakech [326.2 km]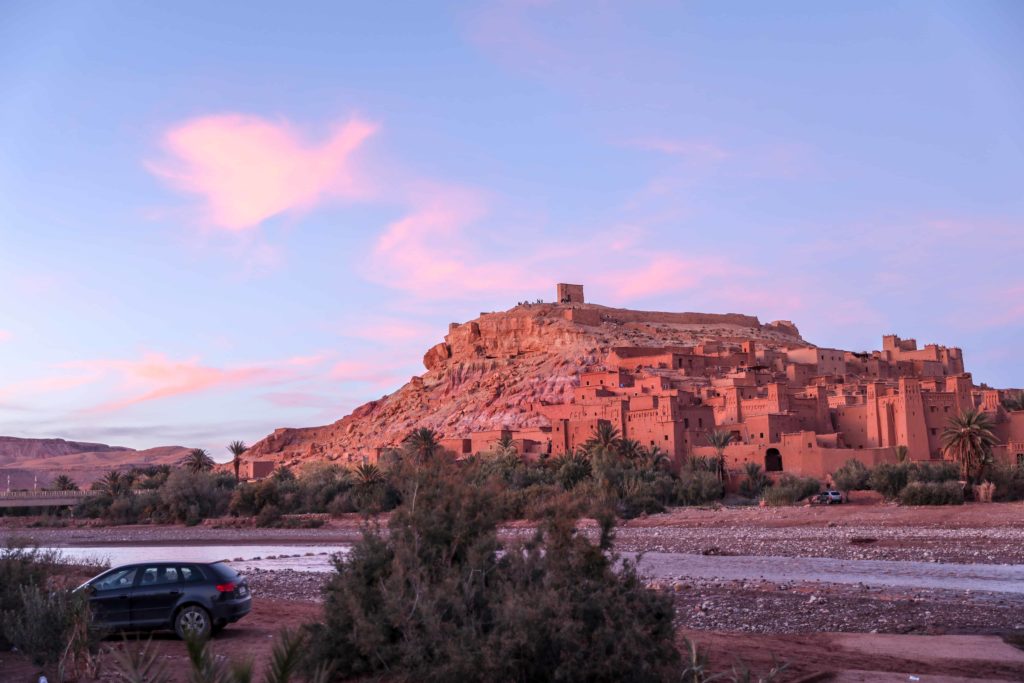 Today discover the Valley of roses, Kelaa M'Gouna a centre of Moroccan roses and rose products. Then continue your trip via the Road of one thousand Kasbahs, passing the Skoura palm oasis to Ouarzazate. After a lunch stop in Ouarzazate, continue with a visit of UNESCO protected site of Ait Benhaddou. Leave the kasbah and start heading towards the majestic Atlas Mountains via the highest road pass of Tizi Tichka 2260m high offering impressive views of valleys, mountains and many Berber villages nearby. Arrival to Marrakech by the sunset. Dinner and night at the hotel or Riad.
 Day 9: Marrakech City Tour With Local Guide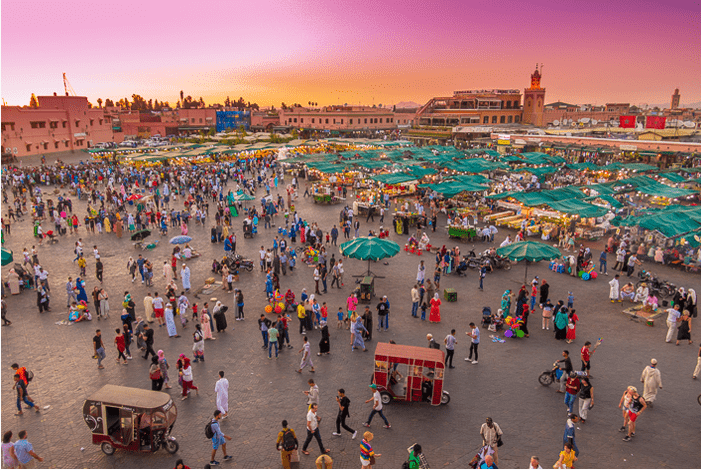 After breakfast, you will explore the city tour of Marrakech with a knowledgeable tour guide. The tour starts from the magnificent Koutoubia Mosque as the landmark of Marrakech which has inspired other buildings such as the Giralda of Seville and the Hassan Tower of Rabat. Your next stop is the Bahia Palace and the Saadian Tombs. The Saadian tombs in Marrakech date back from the time of the sultan Ahmad al-Mansur. The tombs were discovered in 1917 and were restored by the Beaux-arts service. The mausoleum comprises the interments of about sixty members of the Saadian Dynasty that originated from the valley of the Draa River. After the lunch break, You Continue to the world-famous Jemaa el Fna Square, which houses an array of food, snake charmers, local musicians, and fortune-tellers. There's nowhere on Earth like the Jemaa el Fna, the square at the heart of old Marrakesh. You will also walk through the souks and view hundreds of handicrafts. Night with breakfast at the Riad.
Day 10: Marrakech » Casablanca airport [241.2 km]
Transfer from Marrakech to Casablanca Mohammed V International airport for your return flight with plenty of tales of Arabian and Berber days and nights.
 Pick-up & drop off at/from your hotel, Riad or Airport
 Transport by private vehicle with A/C
 Driver/Guide speaking English
 8 Nights in Hotel/Riad (Breakfast & dinner)
 Camel Trekking ( Camel per person)
 Overnight in Desert Camp (Breakfast & dinner)
 SandBoarding (if interested)
 Fuel
---
 Drinks
 Lunches
 Entrance to monuments
 Hotel in Casablanca/Marrakech
---
– Vigetarian option is available, please advise at time of booking if required.
– Alcoholic drinks (available to purchase)
– Children must be accompanied by an adult.
– Quad bike & Buggy driving in the dunes are not included in the price, but it is possible to add them as an extra.